Put the Past Behind You with Our W6 W14 End of Tenancy Cleaning Hammersmith Services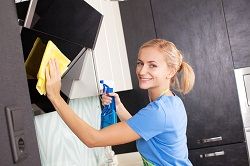 Hiring our efficient and fast team of end of tenancy Hammersmith cleaners is the best way and the quickest way to put the past behind you and clean up your property before the new owners or tenants move in. if you are renting our your property or selling your property to a new owner then our end of tenancy cleaning Hammersmith services are just the kind of cleaning service that you need so as to ensure that all traces of your presence has been cleaned and sufficiently removed before the new tenants or owners move in. Think of it as kind of wiping the slate clean and leaving the new residents with a blank canvas, which they can paint, design and style in their own way and to their own taste. Although our end of tenancy cleaning W6 services do not mean that we will redecorate your home or office environment for you so that the new owners or residents can start again with the decorating and everything else, we do offer fast and reasonably priced W14 cleaning services which will erase any dirt, odours, stains and dust which may be lying around your office or domestic property. If you were in the position of the property buyer or new tenant, would you be happy if you moved in to a new property where there were still stains on the carpets and curtains which were left by the former residents and maybe in some rooms you could still smell the specific brand of cigarettes that the former residents used to smoke, along with the odours that their pets left and the scent of their favourite perfume as well? We are sure that the answer is no, which is why hiring Hammersmith Removals by calling 020 3743 2227 to give your home or office one last thorough clean before you move out is a fantastic idea!


Our end of tenancy cleans Hammersmith are carried out by our dedicated and professional team of W6 end of tenancy cleaners who will not leave your property until every spot of your property has been cleaned successfully to meet our high, professional standards. When we come to clean your property as part of one of our end of tenancy cleaning Hammersmith services we will make sure that every part of your property has been cleaned. We usually make sure that our team of end of tenancy cleaners do not miss a patch of dirt or dust in your home or office by tackling each individual room at a time. To ensure that our high quality end of tenancy cleans go well and that everybody gets the results that they want to see, our team of cleaners W14 will polish every surface, clean the shower, bath and other bathroom fittings, as well as thoroughly cleaning your carpets and upholsteries before then tackling all of the other appliance and furniture cleaning.

Hammersmith Removals cleans properties fast and efficiently so that our team does not get in the way of your move and the other relocation tasks and duties which you need to comply with. Once you have called 020 3743 2227 our team of professional end of tenancy cleaners will come to clean your property and within just a few hours you will have a thoroughly clean and pristine property which is sure to impress the new residents or owners!